Asia Minore, Troas, Abydos
circa 410 B.C.
AV Stater (8.58g)
ABYΔ / HNON, eagle standing left
Gorgoneion facing, within an incuse square
E.S.G. Robinson, Some Electrum and Gold Greek Coins, Centennial Publication (ANS) 1958, 593, 13 and pl. 39, 13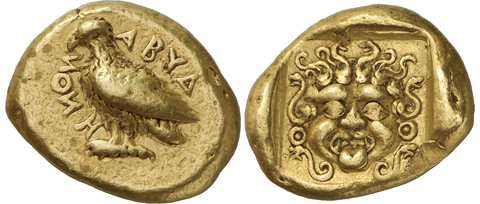 480-450 BC
AR Drachm (5.16 g)
ABUD-HNON, eagle standing left
Facing gorgoneion with protrunding tongue; A-B above; all within incuse square
RRRR
SNG München 3 = Traité II 2442 = MG 155a; SNG von Aulock 7532 var.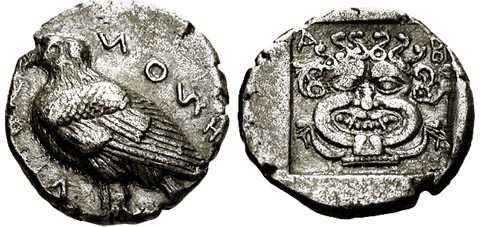 480-450 BC
AR Drachm (5.27 g.)
ABVD-HNON, eagle standing left
Facing gorgoneion with protruding tongue, within incuse square
RR
BMC Troas pg. 1, 1; SNG Copenhagen 3; SNG Munich 3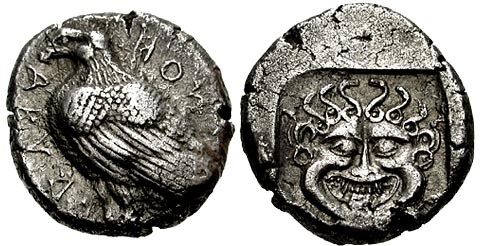 480-450 BC
AR Obol (10mm, 0.88 g.)
Eagle standing left
Facing gorgoneion within incuse square
unrecorded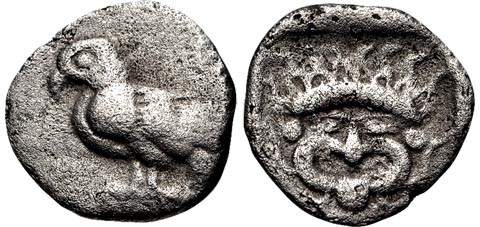 480-450 BC
AR Obol (9mm, 0.78 g.)
Eagle standing left, kylix above, monogram ABV
Facing gorgoneion
R
Weber 5258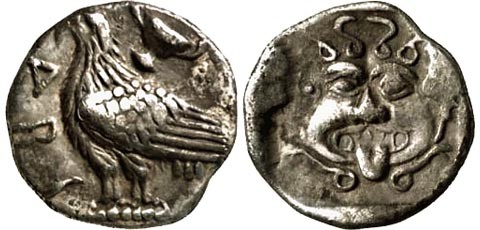 480-450 BC
AR Obol (11mm, 0.69 g)
Eagle standing left, monogram ABV
Gorgoneion within incus square
SNG Copenhagen 5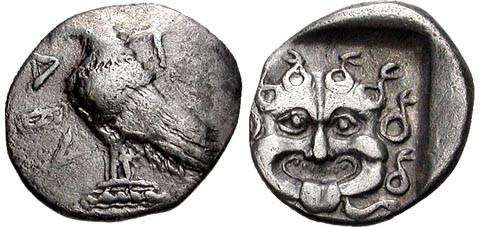 480-450 BC
AR Obol (10mm, 0.53 g.)
Eagle standing left; monogram ABV
Facing gorgoneion with protrunding tongue within incuse square
SNG München 4 var; SNG Copenhagen 4 var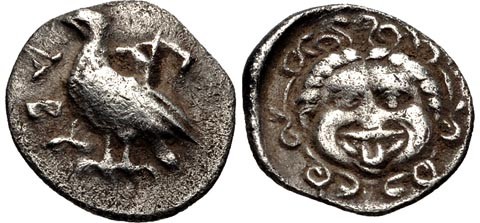 480-450 BC
AR Obol (12mm, 0.65 g.)
Eagle standing left; monogram ABV
Facing gorgoneion with protrunding tongue within incuse square
SNG Cop. 4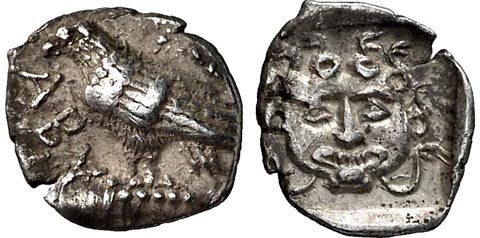 480-450 BC
AR Hemiobol (9mm, 0.51 g, 10h)
Eagle standing left; AVI, monogram above
Facing gorgoneion, tongue protruding, within incuse square
SNG Copenhagen 4 var. (kylix in place of monogram)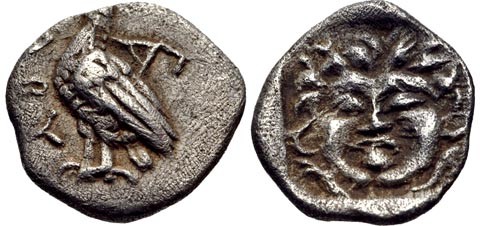 480-450 BC
AR Hemiobol (0.49 g.)
Eagle standing left; AVI, star above
Facing gorgoneion, tongue protruding, within incuse square
SNG Cop. 5 (Var.); Traité 2446